Beekeeping Methods
Traditional Beekeeping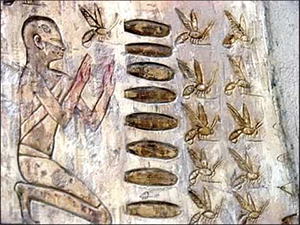 Cave drawings suggest that Man has been managing bees for over 8000 years. Perfectly preserved honey, still edible today, has been found in Egyptian pyramids built around 4000BC.
Traditional beekeeping, which is still widely practiced in the less developed parts of the World, involves enticing a swarm of bees to take up residence in some form of receptacle. This can be anything which is dry, provides the bees with around one and a half cubic feet of space and preferably has a small entrance which helps them defend their nest. Hollowed out logs, clay pots sunk into the ground and empty boxes have all been used.
In Britain, the preferred receptacle was a straw basket called a Skep.
Having housed the swarm, the bees would be left to go about their business. By the following year, usually around May or June, the swarm would have built up into a full colony which would then swarm. Hopefully the new swarm would be collected and housed. The colony would be left alone until the autumn when all the bees would be killed and the honey harvested.